Simple and effective task management for busy people
Your purchase comes with a full 100% 30-day money back guarantee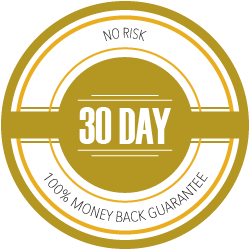 "What a great app. I have been using it on my iPhone, iPad, and now PC for several months, and really can't live without it."

"Phenomenal. Our business wouldn't run the same without it! Been highly recommending it to all suppliers and partners!"

"Priority Matrix 2.0 is a well-designed time-management tool that lets business-minded users visually organize lists, agendas, and priorities by color and labels.

"Easy-to-use organization features and allows its users to share projects across an entire team."

"Priority Matrix is a visual planning tool that is intuitive and easy to use with the basic functionality that makes organizing and managing your activities a cinch."

"Get things done with Priority Matrix"

"Putting a focus on priority, this task management app will help you stay on track of everything from performing routine yard work to putting together a new marketing campaign."
Common Questions
➤ Is Priority Matrix for me?
Priority Matrix is designed for disciplined individuals to take their work to the next level by focusing on important things first. If you primarily work on iOS, Mac and Windows devices, Priority Matrix can help you keep track of all your work, and keep them synchronized wherever you may be.
➤ Which license is right for me?
Licenses is dependent on the number of other people you work with. If you are using PM on your own, choose Individual. If you work with a partner or an executive admin, choose Partner. If you manage a small team between 2 and 10, choose Manager. If you manage up to 50 people, or manage people that manage smaller teams, choose Director. We can help you decide, just shoot us a note:
sales@appfluence.com
.
➤ How does licensing work?
Full licenses come with iPad, iPhone, Mac, Windows with all capabilities. Personal licenses have limited capabilities. All apps sync together and all licenses can collaborate across teams. Team members don't have to buy their own licenses if they're added to an existing team with enough seats.
➤ What if Priority Matrix isn't right for me?
Purchases of our software plans come with a full 100% 30-day money back guarantee. This is rare in the subscription business world, but your satisfaction is very important to us, and will offer you a full refund with very little work involved.
➤ Can I get live on-boarding support?
Yes. If your organization is 50 or more people, you can request a live intro with live Q&A for your group. Simply contact us at
sales@appfluence.com
with a phone # and a good time for us to call you.
➤ I have another question...
No problem! We'd love to discuss any questions you may have. Contact us at
sales@appfluence.com
with your questions or let us know whats a good time and number to call you at.
Software Capabilities
Priority Matrix Capabilities List
Personal
Business
Enterprise

organize visually


see it, drag it, change it, do it

colorful icons


add another layer of categorization

customize colors & templates


choose from our set palettes or create your own

easy zoom


designed with accessibility in mind, scalable font sizes

work offline


whether you're flying or in an elevator, never miss an idea

cloud sync


sync seamlessly, automatically, across iPad, iPhone, Mac, Windows, Android

installable software


installs cleanly to your device -- no more looking through tabs, and your data's with you

device friendly


whether you're a Mac, PC, iPhone, or Android user, we've got you covered

custom views


see only the things you need to see

notes


leave in-depth notes for your team or yourself

set due dates & reminders


never miss a deadline with visual reminders

recurring tasks


call someone every week? Check. Send her flowers twice a year? Also check.

overview


see all your important priorities in one spot

sync calendars


see your tasks in Outlook, iCal, Lotus, and Google Calendar

email tasks


email your Priority Matrix inbox to turn emails into tasks

sophisticated sorting & filters


sort items by 10+ different criteria or easily filter by date

collaborate with multiple users


communicate in-app, through emails, leave detailed project notes, and see daily progress

centralize priorities


focus your whole team ont he most urgent and critical tasks

assign tasks


always know who is responsible for which tasks

drag & drop


drag emails, files, images, URLs onto the matrix to create tasks

project feed


a detailed history of each of your projects

import and export projects


share, save, and store backups of projects on your desktop

daily reports


get a report of work done and to be done daily

generate reports


quickly create a report of in-progress or completed tasks for team members

file attachments & sharing


attach and upload multiple files to tasks that syncs across collaborators and devices.
* 1 GB storage per user for business
** Unlimited storage available for enterprise
*
**